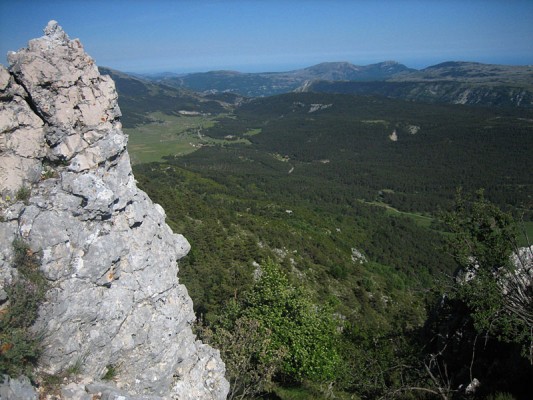 It's Mother's Day in France, and I was woken with breakfast in bed, courtesy of six-year-old Jasper (a compote and spoon), delivered with some lovely cards and presents made at school from both boys. We'd left the step ladder out, as requested, so that Jasper could retrieve the bag he'd hidden from me, from high on the shelves.
We rewarded them with a slightly-longer-than-we'd-thought walk along the ridge from the Greolieres-les-Neiges road to Col de Bleyne take-off, where Marcus had left the car after flying this morning. (Rather stable conditions; the flight was not one of his longest).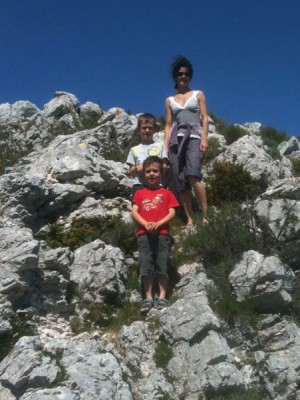 We'd thought the ridge walk was "not that far". It turned out to be about 10km of upping and downing, which is quite a lot for little legs. It was absolutely beautiful and the boys walked really well – I am so proud of them.
Dylan had to be shouldered a bit, but Jasper walked the whole way, though he was virtually crying with fatigue for the last kilometre or so. When we got home, they both said they'd enjoyed it.
I didn't have the Forerunner with me, a real shame as I'd love to know how far it was. So that's a run planned for somewhen soon.
We'd set out semi-prepared, luckily, with a sort-of picnic, almost enough water and semi sensible shoes. Well, Jasper and Marcus did. We'd spent ages digging out and trying the various children's Decathlon sandals we have around the place from previous summers, and found a pair that fit both boys perfectly, which is what Dylan was wearing.
Jasper prefers his "N shoes" (New Balance trainers), and I was in flip flops. I'd left the house thinking we were going on a short walk to discover the takeoff at Pic de Fourneby, a "20-minute walk, which is flat", Dav described it as. Flip flops would have been fine, if not altogether sensible in most people's eyes, for that.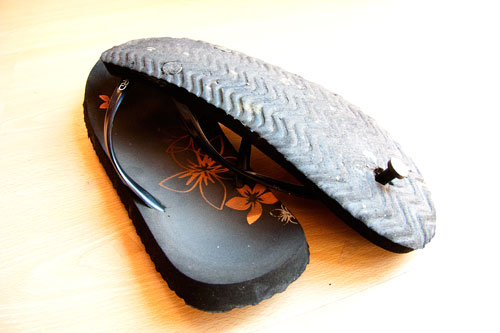 As we climbed up through the pine forest on leaving the car, Marcus muttered something about loving to see Dav's shelves, if he considered that flat! We then carried on for six hours and crossed the entire ridge, back to Col de Bleyne take-off, children leading the way.
To be honest I would probably have opted for trainers had I realised we were going to do that, but I'm reading 'Born to Run' by Christopher McDougall at the moment, fantastic book. The Tarahumaran Indians of Mexico run for hundreds of kilometres with old tyres strapped to their feet, and I really think there's something in the barefoot running, back-to-nature philosophy for letting the foot work how it's supposed to, not over-cushioning, and getting fewer injuries.
Anyway, we eventually arrived at the car having exhausted the boys, something of a feat in itself, and drove home for a well-deserved Guiness and dinner in front of a film. That's just how Mother's Day is supposed to be!