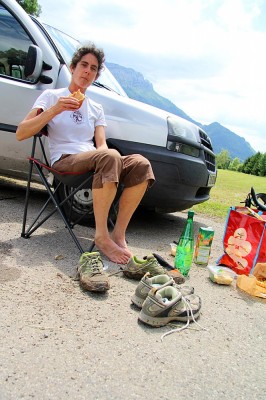 After a night of thunder and rain we woke to a grey sky with the odd shower coming through but still the hope it would be flyable from the top of Colombier. Charlie was still in the company of Swiss tandem team Gabriel and Aude and the three of them set off at six am to make the ascent.
After a few hours they reached the top to find it grey, cold and the wind was howling but as they took a short break the sky started to clear. After descending to the col there was a discussion on whether to fly as for a moment or two it seemed possible but after 15 minutes it had blown out again, at least for Charlie. They like many others decided to make their way down by foot resigned to a day of walking towards Annecy and the next turnpoint.
Down in the valleys the wind seemed to be all over the place, howling in places and calm in others, and the supporters driving around were amazed to see a couple of gliders take to the air before seemingly being blown with the wind towards Annecy.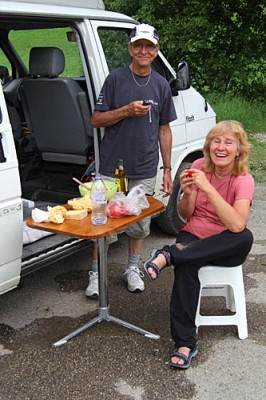 I headed to the far side of Colombier and walked up to meet Charlie as she descended. There were about five or six people descending at about the same time, including one poor competitor whose race was over thanks to a blown knee.
The long climb and descent had taken a toll on everyone it seemed and the lack of progress on track despite walking all morning was also having a psychological effect. After a good lunch at the cars spirits returned and all happily left for the long trek to Doussard.
Meanwhile I set off on a trip to Albertville to buy replacement walking poles for Charlie as she had slipped on the descent falling on her pole and breaking it. I then raced round to Annecy, slowed up by being caught in a speed trap and having to pay a fine. By the time I got to Annecy it was starting to rain heavily, I decided after a few hours in the torrential downpours Charlie would need some pampering so booked us into a hotel –  Roc de Chere.
Charlie made it to Doussard at the southern edge of the lake and walked a part of the way round towards Talloires before the 9 oclock cut off at which point she jumped in the car and we whizzed off for a much needed hot shower.
This morning the sky is again grey but the forecast is for the weather to improve during the day. Charlie and the Swiss pair are on their way up to the turnpoint at Col de Frettes and hope to make it to Col de Aravis tonight.
Report by Marcus King