I work for Cross Country magazine, international hang gliding and paragliding publication. This article was written for the magazine's website at the end of summer 2010.
—————————————————————————————————————

Mont Blanc Calling: Preparing to hike and fly from Mont Blanc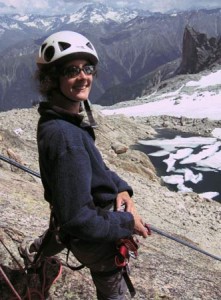 Well, it's the run-up to St Hilaire and a busy time of year in the Cross Country office, but we are planning a post-St Hilaire treat: to climb the biggest mountain in Western Europe (4,810m), and fly off it.
A thing of beauty, the big white snow dome at the top of Mont Blanc is visible for miles around, technically not overly difficult to climb and somewhat alluring. Yes, I know there are many, many beautiful peaks to climb, that are less crowded, and litter-strewn than this; and yes, I've heard that the scene on leaving the refuge in the darkness of early morning (the middle of the night, most of us would call it) is a continuous train of head-torches; yes, it's a long way from the peace and solitude of climbing a smaller, less known summit, but somehow it still beckons.
The team are unfortunately very much bound by full calendars, and have only a five-day window to make the attempt, which could be easily thwarted if the weather does not co-operate. It also only gives us time to do a minimal amount of acclimatisation, but if the weather is OK it could just be enough.
In the group will be editor in chief Bob Drury and his partner Sarah; editor Ed Ewing, myself and my neighbour and climbing partner Guy. To add another element to my preparations, Guy does not fly, so I am learning to pilot a tandem wing so that I can take him on the hour's flight down. Bob will fly tandem with Sarah and Ed will fly solo.
The preparations for the trip are many-fold: We need to decide which route to take, book the appropriate refuge (bearing in mind that we are going out of season, and not all refuges will still be manned); there is kit to gather together and test-fly (can you fit that rope anywhere, and where on earth do you stash an ice axe in flight?). For me, the most difficult and nerve-wracking part of the preparation is learning to fly tandem. Guy is very tall (6'4" or 193 cm), and we will be launching on snow in thin air, just to add to the challenge. And time is getting short …
I started my tandem training with my friend Nicol, a willing volunteer who is a similar size to me, on a lovely docile XL Ozone Mojo. However, Guy is bigger so I needed to move to a tandem wing and a tall passenger. My husband, Marcus, fits the tall bill nicely, and was also willing to be strapped to the front of me. The kind people at Little Cloud came to our rescue with the loan of a lightweight tandem, their new Bidule. At 6.2 kg it's lighter than some solo wings, and Guy and I will share the load on the climb – one of us carrying the wing whilst the other takes the harnesses and spare clothing.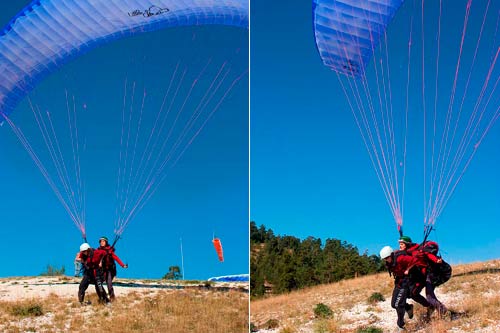 Nicol and I got onto the Bidule the day after it arrived, with a lovely morning flight at St Andre-les-Alpes. Even in my very inexpert hands, it launches very easily, the wing rising slowly and surely, and easily sitting overhead whilst we get ready for the off. It is beautiful in the air, and thankfully less speedy on landing than I had feared, even in nil wind, and even with Marcus and I on it. I do still need to work on the timing of my landing flare, which needs to take into account someone else's legs touching down before mine do.
Harness-wise we have a lightweight reversible Woody Valley with split legs, ideal for the purpose, and will raid the Cross Country stores for the smallest, briefest second harness we can find that will be comfortable enough for the hour's descent flight. Guy is working overseas currently, and not due back until the week before the off, so whilst I will do as much tandem as I can with anyone who'll let me take them in the meantime, it'll be a last-minute intense course for him, to take him on his first ever flights and find him a comfortable harness.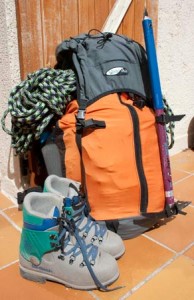 For training purposes, I packed myself a separate 'training kit' with my Ozone Ultralite 19 in the Woody Valley rucksack to enable me to get used to carrying it up hills, and flying down with it (though solo this time). I included rope, axes and crampons for the exercise and to ensure they will fit in a harness to be flown down again, although they won't actually have to be carried in a rucksack on the day as they will be in use. Likewise some of the clothing and the helmet will be in use, so the sack will be lighter than I have been training with.
In terms of physical training, I think it's really endurance that is the key. The ideal is probably to go for regular long walks carrying weight, hence the training kit, though in reality it's hard to fit too many of these sessions into an already busy life, so I more often go for runs and hope that the aerobic training will be of some help overall. I trained for and ran the Mont Blanc marathon at the end of June and am hoping that some of the stamina gained will still be there, even all this time later.
So then, the itinerary. Firstly, which route? There are two obvious choices if starting from Chamonix: the voie normale, via the Gouter refuge and Bosses ridge, or the Trois Monts route which starts at the Cosmiques refuge and goes over the shoulders of Mt Blanc de Tacul and Mt Maudit.
The former is graded PD (peu difficile) and is really a two-day affair, as it involves several hours' approach to get to the Gouter refuge (3,817m), and is then a four-and-a-half hour climb on 'summit day'. The latter is PD+ and is conveniently accessed from the Cosmiques refuge, a half-hour walk from the top of the Aiguille du Midi cable car. It is then around a six or seven-hour walk on summit day.
On further investigation, I discovered the Gouter refuge is likely to be unmanned by mid-September, and the top part of the Mont Blanc Tramway to the Nid d'Aigle, the usual disembarkment point for people heading to the Gouter refuge, is closed for maintenance (you have to get off lower down). The Cosmiques refuge, however, is manned until mid-October and we could happily base ourselves there for a couple of days whilst acclimatising (so saving some uplift fees), so the Trois Monts route seems to be the most sensible choice for us.
In terms of acclimatisation, it is an inexact science and we only have a certain number of days available to us. Generally, it seems to be recommended to spend at least two days and one night at altitude before the night of the summit attempt, although I think the longer you can spend up high, the better.
Our original plan was to climb the Petit Aiguille Vert as one of our acclimatisation routes, with the possibility of flying down from the Grands Montets afterwards (assuming the snow is still in such a condition for this to be possible by the time we have finished the route). However, the Grands Montets cable car shuts on 12 September so this is not possible. So now it makes sense to base ourselves at the Cosmiques refuge for two nights, from where we can do a couple of acclimatisation days before attempting the big one on the third day. These routes will also give us the opportunity to brush up on alpine techniques, using ice axes and crampons and moving roped together.
Other things to think about
Rescue insurance – CAF (Club Alpin Francais) cover para-Alpinism for solo pilots or qualified tandem pilots with non-paying passengers. They also offer reductions on their own refuges' fees, though the Cosmiques refuge that we will be using is not CAF-owned so this does not apply.
I live in France, so CAF and my French health care card cover all my insurance needs, but if coming from overseas you would need to consider having medical and repatriation insurance too.
Major costs, excluding transport to Chamonix
Aiguille du Midi cable car: €37
Cosmiques Refuge B&B & evening meal, two nights at €49 / night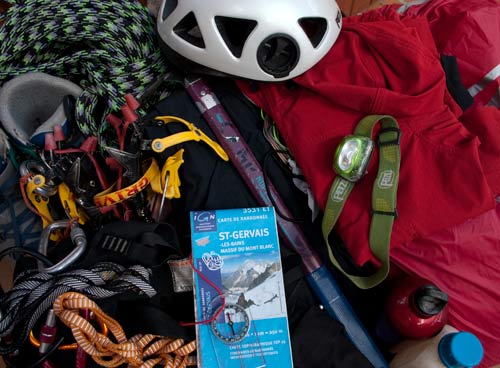 Kit List
Packing for the mountains can be tricky: while you'll be exercising and need to not overheat, it will definitely be cold at altitude. A temperature drop of 6 – 7 degrees Celsius every 1,000 m climbed is quoted, so at 5,000 m you can expect the temperature to be 30 – 35 degrees colder than at sea level. And that's on a good-weather day and without taking wind chill into account. There's always the possibility of the weather changing for the worse, tiredness or injury (pray not) that could mean you'll easily get cold.
Conversely, you don't want to carry more than you have to. I have climbed with people who take cut-off toothbrushes to save weight, so carrying around extra woollies for no reason is definitely not a good idea. So, after some consideration my clothing kit list is as follows:
Base layer – long sleeved wicking top & Ron Hill bottoms
Softshell jacket or fleece
Waterproof jacket and trousers (lots of people use gaiters too)
Loft jacket
Gloves and liners, spare gloves (I actually have dropped a glove over an abyss mid-route before)
Ski socks
Hat (to fit under helmet) or balaclava
Mountain boots suitable for cold weather and crampons
Ice axe
Crampons and anti-ball plates
Helmet, head-torch and batteries
Map, compass, whistle & guidebook
Rope (two between the party of five)
Harness with belay device, two slings, two prussiks, ice screw, spare karabiners
Water bottles (I decided to take actual bottles rather than a plastic drinks hose system in case the tube freezes up)
Tandem, two harnesses and spreaders
Camera
Phone (charged with battery and credit)
Suncream and lip salve
Useful Contacts
Office of Mountain Guides in Chamonix – info on routes, their condition, weather etc
Cable car timetables and prices
Gouter Refuge Tel +33 (0)4 50 54 40 93
Manned June – September.
Cosmiques Refuge Tel +33 (0)4 50 54 40 16
Manned from mid-February to mid-October.
Weather forecast in English +33 (0)8 92 68 74 20